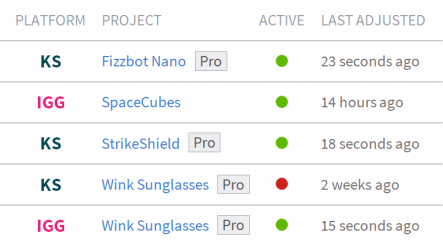 Automatic top-ups every 60 seconds
With the StockLimits Pro service, your campaign stock levels will be monitored once every minute. Automatic updates will occur as necessary to replenish your stock.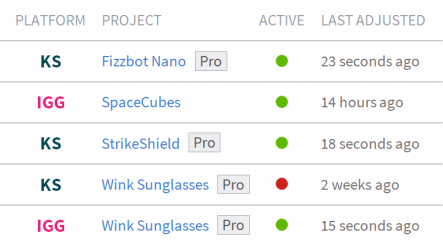 Kickstarter & Indiegogo Support
With support the two most popular crowdfunding platforms, our automated approach takes the pain out of monitoring and replenishing rewards. Optional email notifications can also be triggered to keep you informed of top-up activities.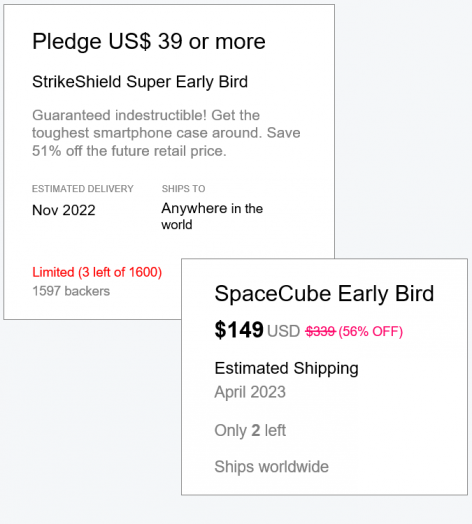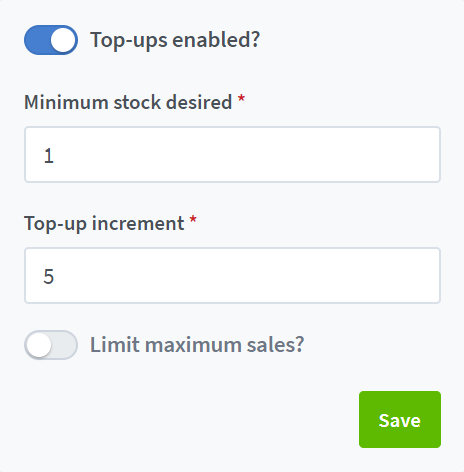 Customizable thresholds per reward
A web based user panel is available to configure top-up parameters on a per reward basis. You can decide how low your stock should be allowed to fall and how much quantity to add when the thresholds are realized.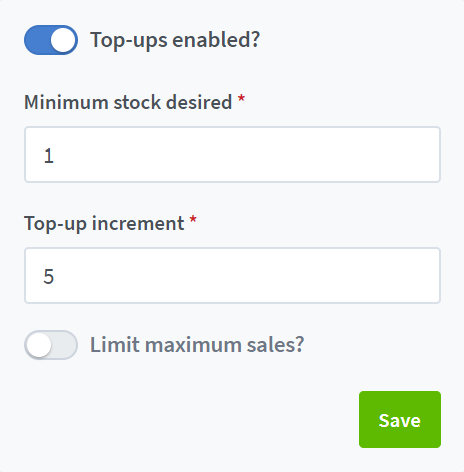 Pricing
No credit cards are required for any of our plans. Payment can be settled upon the completion of your campaign.
Instant Activation
StockLimits Free
Use our secure control panel to manage stock levels for unlimited Kickstarter campaigns with once per day monitoring.
Instant Activation
StockLimits Pro
Use our secure control panel to manage stock levels for unlimited Kickstarter campaigns with per minute monitoring.
Pay later. No credit card required.
StockLimits Agency
Refer your clients to StockLimits for increased campaign conversions. This service includes per minute monitoring.
Monthly packages available.
Reviews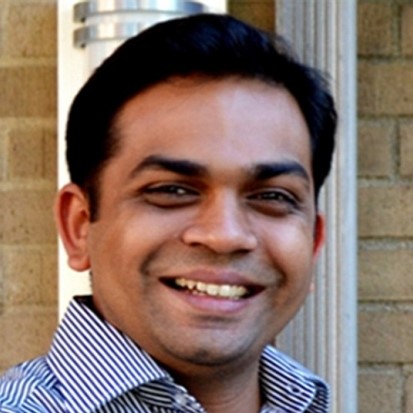 Hiral Sanghavi
Co-Founder & CEO, Baubax (raised $20m+)
On high conversion crowdfunding campaigns, it's almost impossible to monitor reward quantities manually. StockLimits automates the entire process to ensure a smooth and error free experience.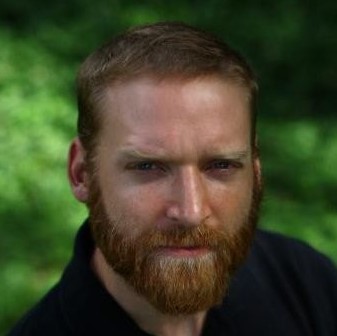 Richard Rhett
Sierra Madre Research (5-time creator, raised $1m+)
There aren't many times when a no-brainer comes across my desk. When you're running a kickstarter (esp. a successful one) everyone wants a piece of your pie. This service was worth every single penny! By far the biggest ROI on our campaign.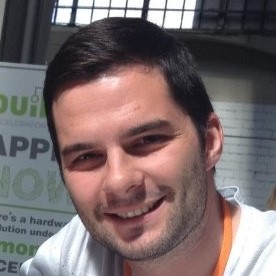 Ivaylo Kalburdzhiev
Founder, Dayonefunding (raised $5m+ for clients)
StockLimits is a must-have for any creator or agency looking to automate the cumbersome process of manually adjusting the reward quantities of their crowdfunding campaigns.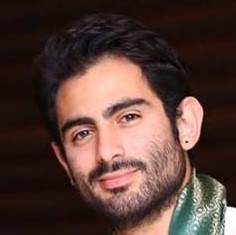 Oscar Bonilla
Founder, Orijin Design (rasied $500k+ via crowdfunding)
StockLimits is like having really great insurance on your reward tiers. You can go about handling everything else while knowing you're covered by a really great service.
FAQ
What about my Kickstarter/Indiegogo account security?
We don't need to know the credentials of your main Kickstarter/Indiegogo account. We recommend to create a new collaborator/team member account and assign this to your project with minimal campaign privileges. You can revoke this access at any time.
Can't I just do this activity manually?
The average crowdfunding campaign duration is about 30 days (43,200 minutes). That's a lot of manual checks! When you operate manually, you run the risk of keeping your stock levels too high (less conversions) or letting it run out (no conversions).
My campaign already launched. Can I still use the service?
Yes. You can adjust the availabile stock quantities for your crowdfunding campaign at any time. If you take advantage of our StockLimits Pro service, you only need to pay for the days when your subscription was active.
Why does this technique work so well?
One of the key reasons for the success of crowdfunding platforms is the sense of urgency created among buyers when the clock is constantly ticking down. Limiting available stock elevates this sense of urgency to significantly increase conversions.
Can I cancel my StockLimits Pro service?
Ofcourse. You can cancel at any time. If you're using our Pro service, you only need to pay for the days when your subscription was active.
Do you also offer a free trial?
Absoloutely! Try our "Free" plan to experiment with the StockLimits control panel and understand how the platform can help your campaign. Our free service will check your campaign once per day.
Can I add my campaign in StockLimts before it goes live on Kickstarter/Indiegogo?
Absloutely yes. You can add your draft campaign into Stocklimits. Needless to say, no charges will be incurred while your campaign is waiting to go live.
How long does it take to setup StockLimits for my campaign?
Setup can be done in as little as 5 minutes. We also offer a free rewards/pricing review service for customers (and potential customers). Drop us a line via the contact form to request a review of your rewards strategy.